Schedule
NBA - Clippers vs Celtics


STAPLES Center
Los Angeles, CA
Feb. 5, 2021
ESPN
WF3
NASCAR - Duel at Daytona


Daytona International Speedway
Daytona Beach, FL
Feb. 11, 2021
FS1
WF1
NASCAR - NextEra Energy 250


Daytona International Speedway
Daytona Beach, FL
Feb. 12, 2021
FS1
WF1
NASCAR - Beef. It's What's For Dinner 300


Daytona International Speedway
Daytona Beach, FL
Feb. 13, 2021
FS1
WF1
PGA - AT&T Pebble Beach Pro-Am


Pebble Beach Golf Links
Pebble Beach, CA
Feb. 13-14, 2021
CBS
WF3
NASCAR - Daytona 500


Daytona International Speedway
Daytona Beach, FL
Feb. 14, 2021
FOX
WF1
NBA - Lakers vs Nets


Staples Center
Los Angeles, CA
Feb. 18, 2021
TNT
WF3
PGA - The Genesis Invitational


The Riviera Country Club
Pacific Palisades, CA
Feb. 20-21, 2021
CBS
WF3
NBA - Lakers vs Heat


STAPLES Center
Los Angeles, CA
Feb. 20, 2021
ABC
WF3
NBA - Clippers vs Nets


STAPLES Center
Los Angeles, CA
Feb. 21, 2021
ESPN
WF3
NBA - Heat vs Raptors


AmericanAirlines Arena
Miami, FL
Feb. 24, 2021
ESPN
WF1
NBA - Lakers vs Trailblazers


STAPLES Center
Los Angeles, CA
Feb. 26, 2021
ESPN
WF3
NASCAR - Contender Boats 300


Homestead-Miami Speedway
Homestead, FL
Feb. 27, 2021
FS1
WF1
NASCAR - Dixie Vodka 400


Homestead-Miami Speedway
Homestead, FL
Feb. 28, 2021
FOX
WF1
NBA - Lakers vs Warriors


STAPLES Center
Los Angeles, CA
Feb. 28, 2021
ESPN
WF3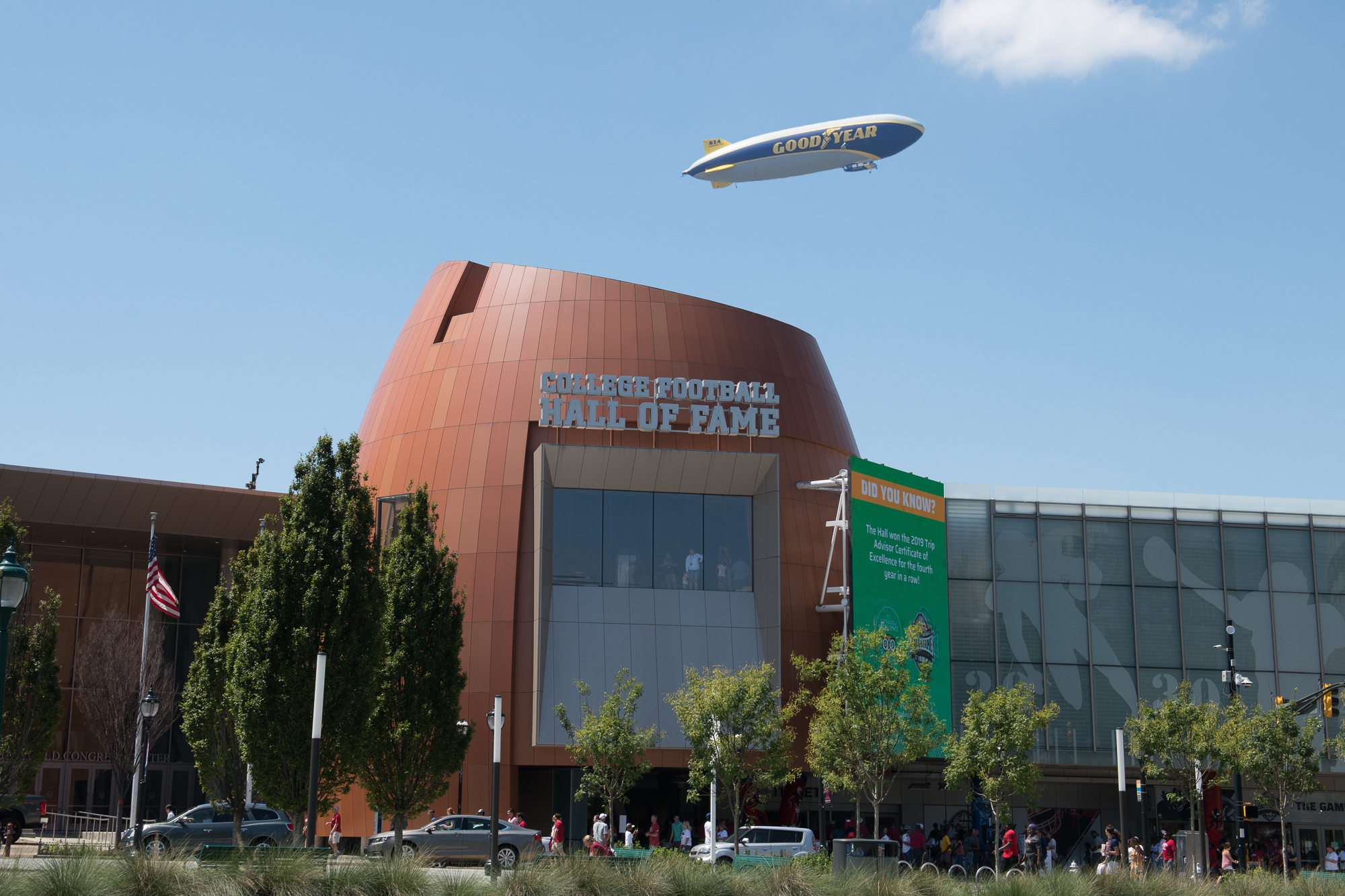 HEADED TO THE HALL
The National Football Foundation and College Football Hall of Fame are inducting the Goodyear Blimp as an honorary member, the first non-player or coach to be inducted.
Learn More
Blimp Facts: Scheduling & Events
Where can I find a schedule of Goodyear blimp TV events? We try to keep an updated and active list of our TV events, such as NBA games, MLB and Golf, etc. With the high demand and changing TV schedules it isn't always easy to do so!