Current Blimps
Select a Blimp Below to Learn More:
Wingfoot One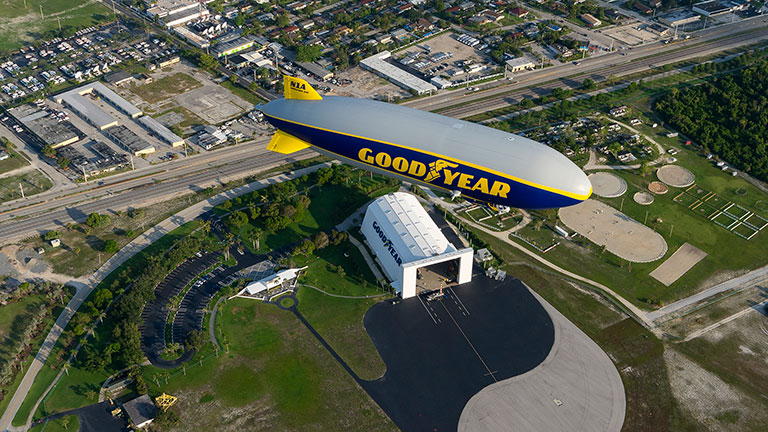 Wingfoot One:
Launched in 2014, Wingfoot One is the first of a new generation of Goodyear Blimps built on the New Technology (NT) platform developed by Germany's ZLT Zeppelin Luftschifftechnik and customized to Goodyear's needs. The first semi-rigid airship ever constructed for Goodyear's modern fleet was built in Suffield, Oh. at Wingfoot Lake by Zeppelin and Goodyear associates. Since it first took flight, Wingfoot One has provided aerial coverage of numerous marquee events, including the NBA Finals, the Daytona 500, the Stanley Cup Finals, the PGA Championship and the College Football Playoff National Championship.
Wingfoot Two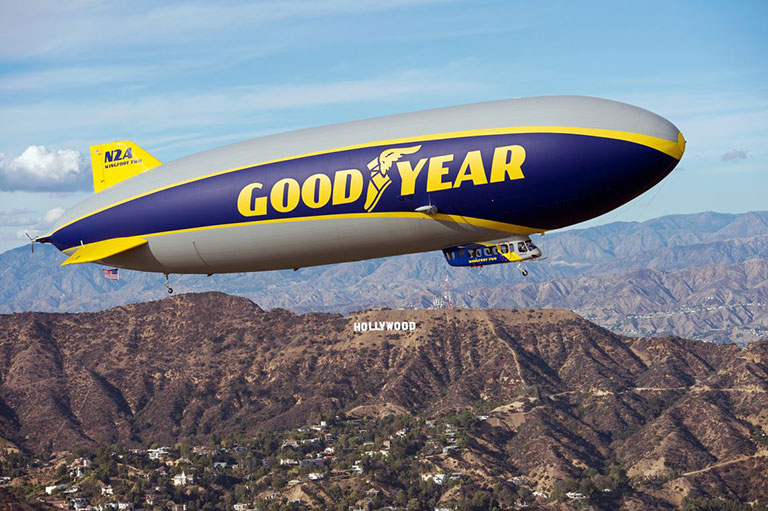 Wingfoot Two:
Wingfoot Two, as are all the modern Goodyear blimps, was built at Wingfoot Lake in Suffield, Ohio. It became the first Goodyear blimp in over 50 years to serve as a jump platform for skydivers when the USAF Academy Wings of Blue skydive team made an historic leap from above the Bristol Motor Speedway in Bristol, Tennessee on Sept. 10, 2016. The airship has appeared at the NBA Finals, the Oscars, the College Football Playoffs, numerous PGA Tour events and the Rose Parade, just to mention a few.
Wingfoot Three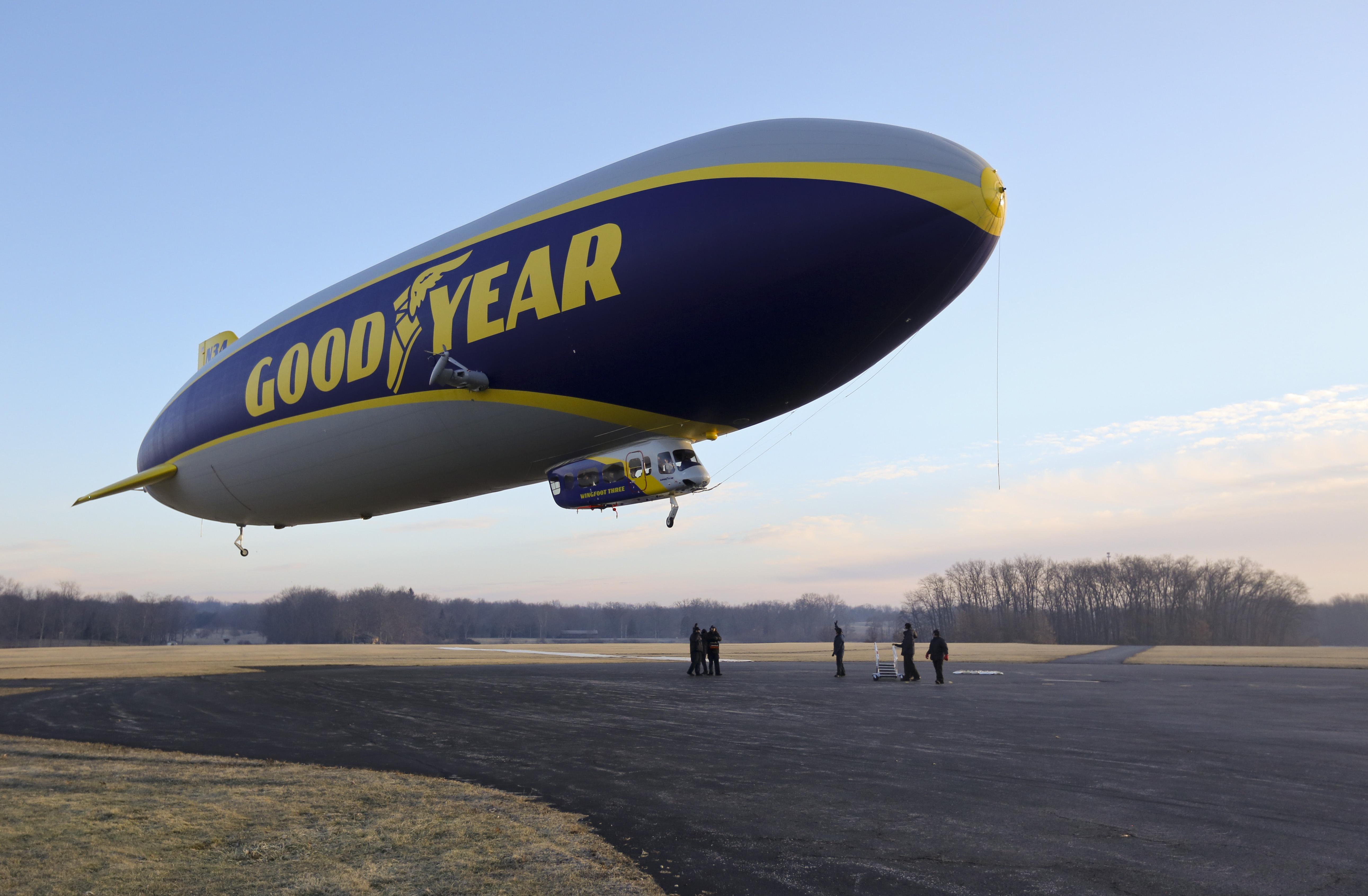 Wingfoot Three:
Wingfoot Three is the newest addition to the new Goodyear Blimp fleet. Its first flight in 2018 marked the completion of our full fleet transition to the New Technology (NT) platform. First flown in June 2018, Wingfoot Three continues Goodyear's over 100-year history of excellence and innovation in lighter-than-air aviation. It is the latest in an unbroken line of Goodyear blimps, semi-rigid and rigid airships. Goodyear is recognized throughout the world for its commercial airship operations. During its first year, Wingfoot Three delivered aerial coverage for multiple Ohio State and Michigan State NCAA football games, the MLB Home Run Derby and All Star Game programming in Cleveland, Ohio and the inaugural World Golf Championships-FedEx St. Jude Invitational in Memphis, Tennessee.
Europe Blimp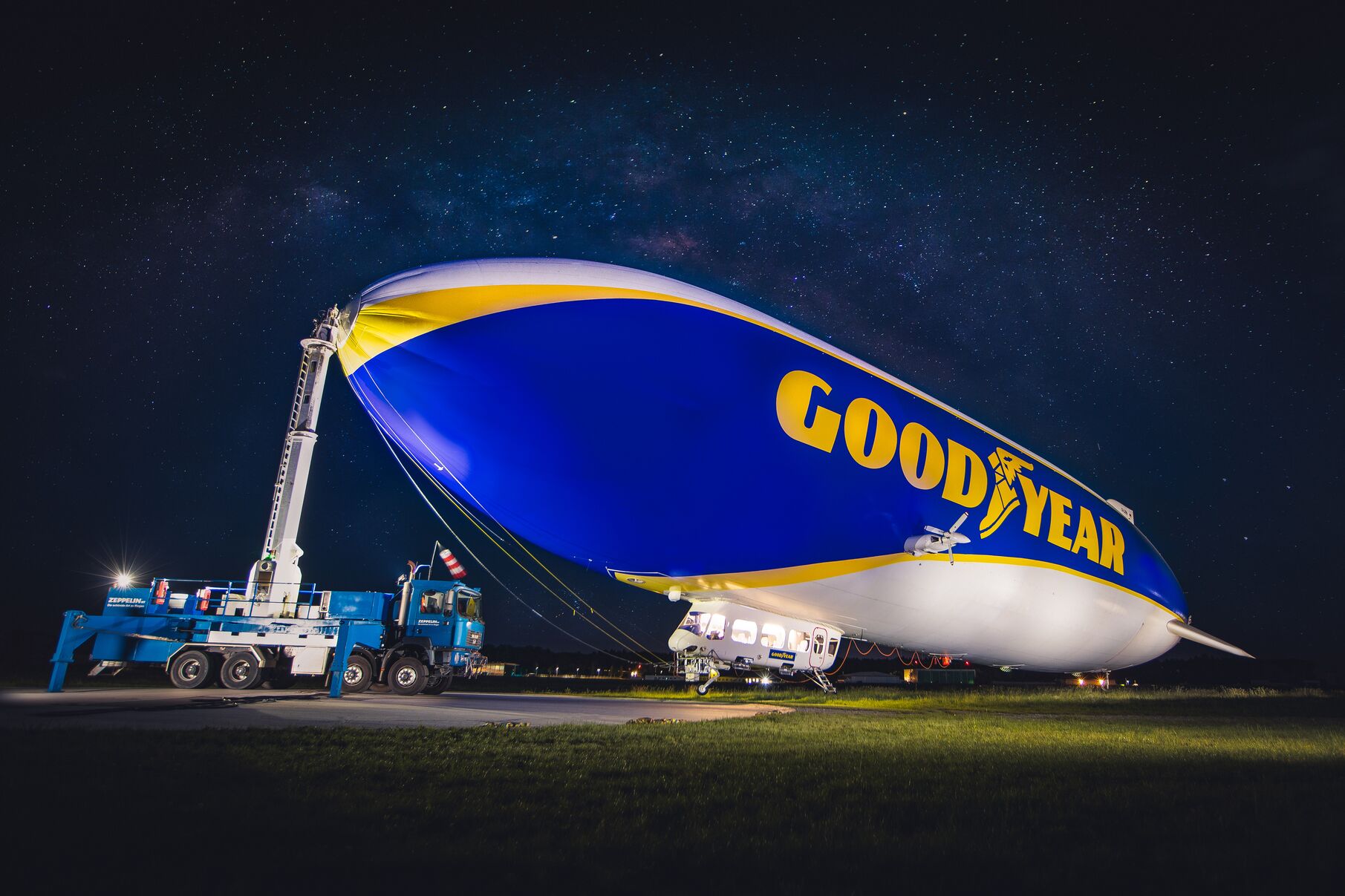 Europe Blimp:
In 2020, the Goodyear Blimp returned to European skies for the first time in almost a decade. The Goodyear Blimp operating in Europe is a Goodyear-branded Zeppelin NT airship like its American counterparts, operated by Deutsche Zeppelin-Reederei GmbH of Friedrichshafen, Germany. The Europe blimp celebrates both Goodyear's return to international motorsports and the legacy of the Europa, which covered some of the continent's biggest events including numerous Grands Prix, the French Open, and even two Royal Weddings. For more information on the Goodyear Blimp in Europe,
click here
.
How it's Made
How It's Made Video:
Assembly of Wingfoot One began in March 2013 at Goodyear's Wingfoot Lake hangar. An international team of engineers and technicians from Goodyear and Germany's ZLT Zeppelin Luftschifftechnik worked side by side to complete the build project. Parts such as the tail fins and gondola were built in Germany and shipped to the U.S. for assembly. The balloon-like body of the airship – the "envelope" – is made of polyester with an innovative film from DuPont™ called Tedlar®, surrounding a semi-rigid internal structure, which differentiates this airship from previous Goodyear blimps.
The timelapse video shows the process from beginning to completion. Enjoy!
Comparison
Blimp Life vs. Everyday Life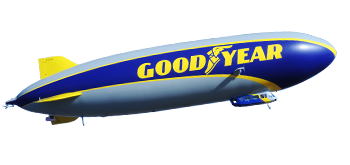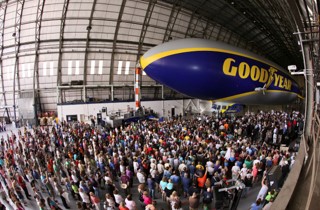 Over 82% of a football field
Length of 2.5 London double-decker busses
Length of 7 king-size beds
Taller than 8 pro basketball players
Aluminum and Carbon Fiber Trusses
Same as many top-of-the-line sportscars
Polyurethane, Polyester and Tedlar film
Imagine a weather-resistant, super-strong spandex
About as long as the average car on the road
Maximum Weight
(without Helium)
As heavy as 25,700 cans of soup
As fast as a Category 1 hurricane
An entire professional basketball team
377% higher than previous
Almost 10,000 D batteries
Weight of a Thoroughbred race horse
Number and Type of Engines
Simply put: no comparison
Almost as much total horsepower as a Chevrolet Camaro ZL1
Up to 2.5 times longer than the first transatlantic flight
Noise Level Inside and Outside of Gondola
As quiet inside as most passenger cars at highway speeds
1Seating configuration for the new Goodyear blimp is subject to adjustment as assignments and lift conditions vary.
2Based on cruise power, maximum fuel load and optimum atmospheric conditions. Maximum endurance is in conjunction with optional extended range kit.
3External noise level at 1,000 feet AGL at maximum continuous power on all engines. Measurement according to ICAO Annex 16, Vol. 1, Chapter VI.
All data compiled from FAA and EASA (European) government type certificate data sheets, manufacturer's manuals and website specifics. All technical data of the New Goodyear Blimp refer to the Zeppelin model LZ N07-101.
Blimp Facts: Science & Technology
Without its lifting gas, an empty Blimp weighs almost 20,000 lbs. Once inflated with helium and after accounting for fuel, payload and ballast, it usually weighs in at 100-200 lbs.